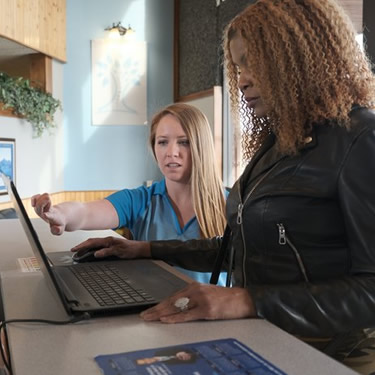 New Patients
Welcome to Eagle Creek Chiropractic! We keep high energy and provide a warm and welcoming environment that will help you feel right at home. Our team looks forward to meeting you and discovering how we can help you.
Your First Visit
You can complete the necessary paperwork ahead of time or when you arrive for your appointment. Then, you'll meet with Dr. Lucas for a consultation and examination. You'll receive some type of treatment, which may be a chiropractic adjustment or therapy such as interferential stimulation. This visit takes about 45 minutes.
Your Second Visit
When you return, you'll sit down with Dr. Lucas to go over your results in what we call a report of findings. You'll learn about the cause of your problem and how we plan to help you. In the end, you'll go home with a folder of information that you can look over. Your insurance will have been verified, and we'll go through your coverage with you.
Regular Visits
At your subsequent appointments, the time you spend with us will differ based on the type of treatments you receive. If you have a chiropractic adjustment, you'll only be here for about five minutes. If you have physical therapy with your adjustment, you might be with us for about an hour. We'll let you know what to expect ahead of time so that you can plan accordingly.
Start on Achieving Better Health Today
You can contact our team today by phone or email to book your first visit. Insurance coverage can be used at our practice, and we're in-network providers with several plans.
CONTACT US »

New Patients | (317) 299-3330